VOLUNTEERING.
WE NEED YOU.
Volunteering is a great way to make new friends and give back to your community.  By giving your time, energy, and commitment, you will be surprised by the feelings of reward greater than what you are giving.

There are many volunteer opportunities available, for students and organizations looking to fulfill a required obligation, to anyone who loves animals and wants to make a difference. Time commitments range from a couple hours a week to daily, such as the commitment an individual or family makes when they foster until adoption.

Individuals must be at least 18 years old, or if younger than 18, be accompanied by a parent or guardian.  We ask that our volunteers complete and sign a Volunteer Agreement and Privacy Statement, as well as attend an orientation session.
We take volunteering very seriously. Rules and guidelines are set up to ensure the safety for everyone and the animals. It is imperative that these rules and guidelines are followed:
You must have your own transportation.
Be on time. (Call Harmony Rescue at 434-821-3544 if you cannot make it or you are going to be late.)
Wear old clothes and closed tip shoes. NO flip flops or sandals.
Check in and out with the Harmony Rescue Staff.
On any given day, the amount of animals or the status of animals can change.
Follow the Volunteer lists of tasks. This list usually takes up to 2 hours.
When there is free time, it's all about spending time with the dogs/cats and building relationships with them.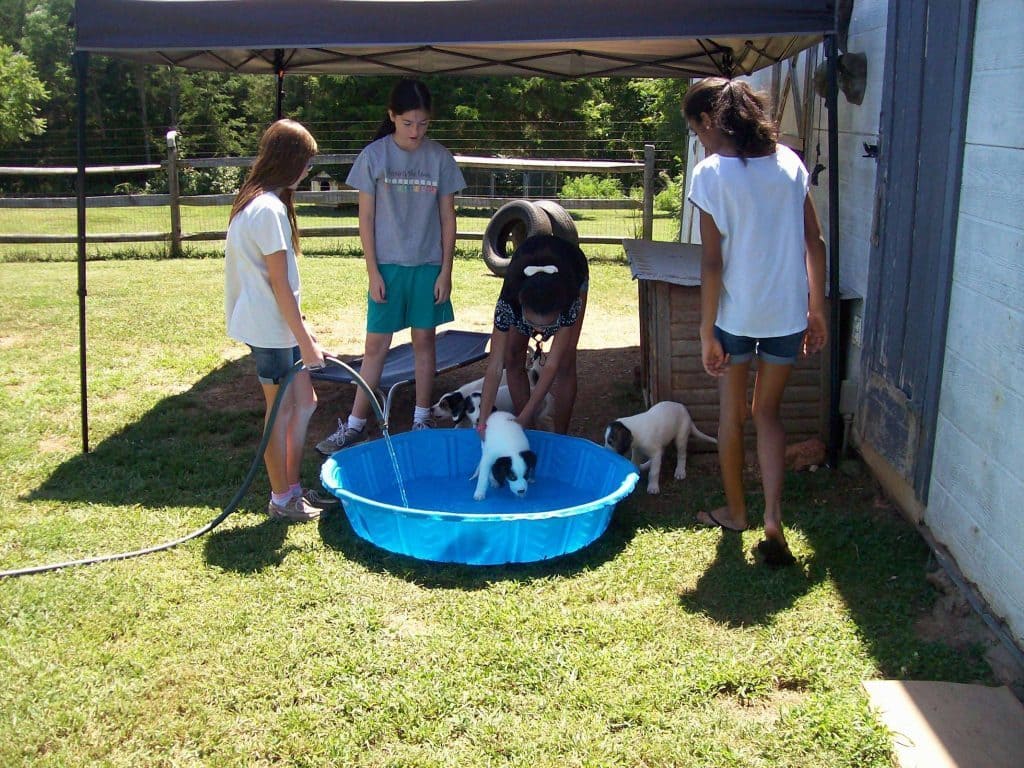 Dog Task List For Volunteers
Long walk dogs.
Play-yard (socialize and play with dogs).
Straighten up crates, kennels.
Sweep/vacuum inside; sweep sidewalks outside.
Pick up poop (Play-yard, around play-yard, paddock, all kennels).
Fresh water in all kennels, Pooch Inn, Play-yard, Barn (if being used.)
Wash dishes.
Sort newspapers (as needed).
Clean up any soiled papers, spray area with Parvosol, wipe with paper towels, place clean newspapers down; pack down.
Clean crates (on left side of Pooch Inn).
Line crates with newspapers (pack well).
Put Duck tape on crate (on top in very front).
Feed dogs/pups (see Feeding Instructions).
Recycle cans – wash out, let dry, put in respective white plastic bin on top of crate.
Cat Task List For Volunteers
Feed cats (see Feeding Instructions).
Clean litter boxes.
Straighten up Cattery's.
Clean up any soiled areas, spray area with Parvosol, wipe with paper towels.
Shake out, or put new bedding out (put dirty bedding in laundry).
Sweep and vacuum as needed.
Fresh water.
Socialize with the cats in the Cattery's.
Wash dishes.
Recycle cans – wash out, let dry, put in respective white plastic bin on top of crate.
Make sure everything is back to the way it was.
READY TO APPLY?
GO FOR IT!
In the form to the right, fill in the first two boxes with your name and email. 
In the message box, answer the following questions:
Please provide a little more information about yourself and experience with animals.
What time/days you are available and why you need the community service hours?
Are you allergic to anything?
Do you prefer dogs or cats or both?
Have you ever been convicted of animal cruelty or other crime?
Keep in mind, the volunteer hours are:
Monday thru Friday          11 – 1 pm or 4 – 6 pm
Saturday & Sunday           11 – 1 pm or 4 – 6 pm
Remember, we require a 2-hour shift and at least 10 hours total volunteer time. This gives the animals a chance to get to know you and vice versa.